Selecting a countertop with the right balance of functionality and style can be tricky. It's a good thing that porcelain countertops are an excellent choice thanks to their durability, hardness and resistance to heat. This type of material is also offered in a large variety of colours and sizes—ready to suit any one person's aesthetics.
While popular in Europe, it is only now being used at a higher rate. For good reason, too. Porcelain is not only a high-quality material, but its sleek and modern design fits well into all spaces.
Take a peek at the range of porcelain countertops manufactured by Caesarstone.
Selections like 110 Whitenna, an intensely white canvas that projects the pure aura of real porcelain bisque, or 504 Lumena, a pearl-white backdrop crisscrossed with crackling dark gray veins are luxurious and classic options for many homeowners.
In this article, let's discuss the pros and cons of porcelain countertops.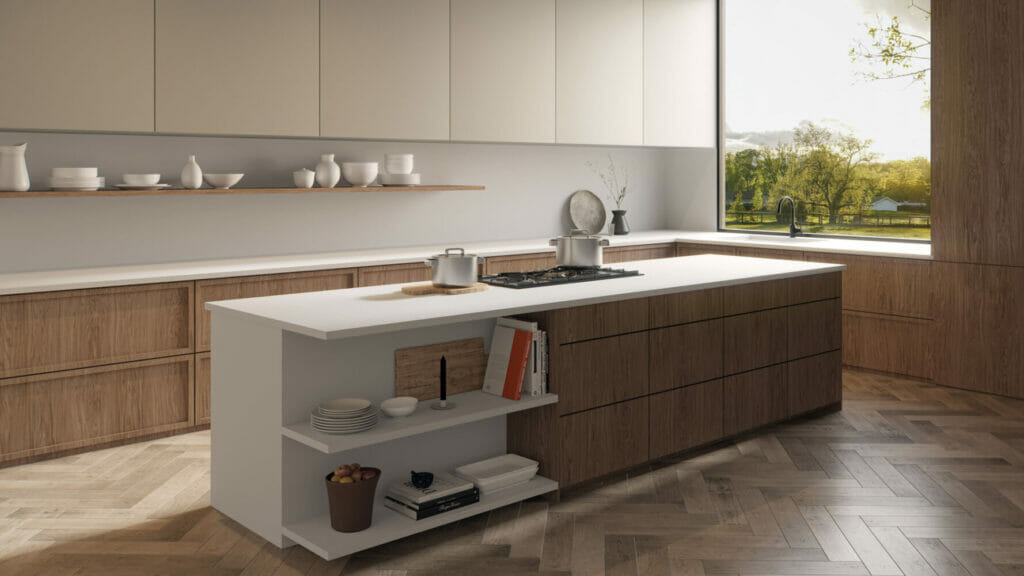 What is porcelain?
Porcelain is formed using a mix of quartz, clay and feldspar under extreme heat. It is through this process that porcelain is able to be such a hard material.
So, is porcelain good for countertops in residential and commercial spaces?
Continue reading to find out:
What are the pros and cons of porcelain countertops for homeowners and business owners?
From beauty to durability and everything in between, there are so many pros to talk about when it comes to porcelain:
Stain resistant
Heat resistant
Scratch resistant
Durability
Chemical resistant
Selection
Maintenance
Stain resistant
Due to porcelain's nonporous surface, it does not absorb bacteria or liquids quickly. Do make sure to wipe spills swiftly for optimal cleanliness. While porcelain isn't 100% stain-proof, it still is a great option.
Heat resistant
You can place cookware directly on porcelain countertops straight from the oven or the cooktop. However, devices that emit constant heat over a long period should be placed on an insulated countertop mat and not directly on the porcelain surface.
Scratch resistant
Porcelain is a material that is scratch-resistant (i.e. it's incredibly hard to scratch the material); homeowners can use a knife to cut directly on the material, but a cutting board is recommended for daily use.
Durability
One of the greatest characteristics of porcelain is its durability. It can hold up to general wear and tear, but it is important to note that, like with all countertops, chips and cracks are always possible.
Chemical resistant
Even against bleach, acidic liquids and chemicals, porcelain will generally remain unaffected.
Selection
Among the finest of countertops resides porcelain in an array of beautiful colours. Porcelain is available in a wide variety of colours, making it a versatile and sought-after material.
Maintenance
Simply use a wet, warm cloth and a gentle cleanser to clear the countertop of any unwanted bacteria, spills, germs and more. Avoid abrasive clothes, if possible.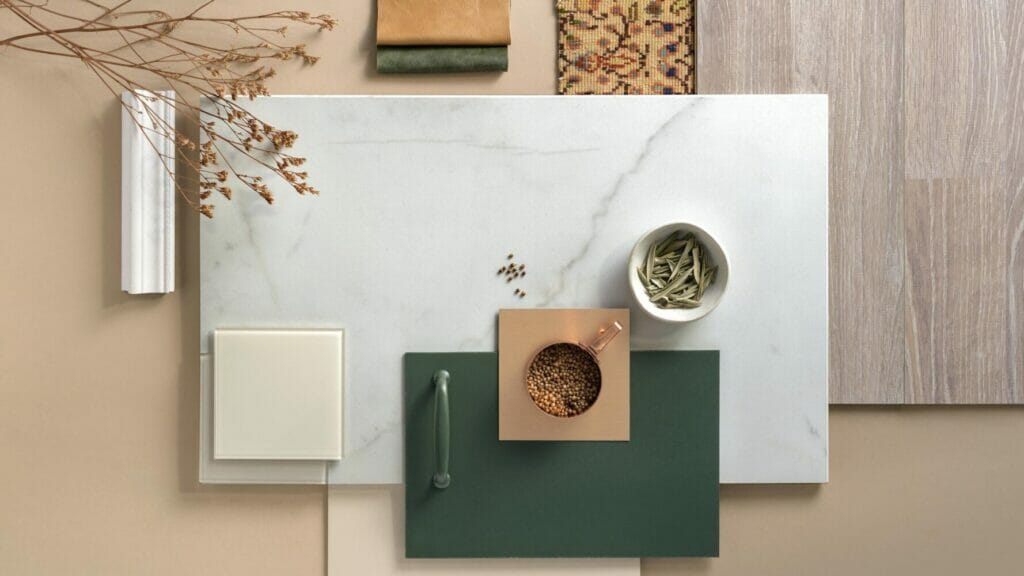 Cons
To properly evaluate if porcelain is the right material for a home or business, make sure to understand some of the concerns (or misconceptions) people have about using porcelain:
Colour
Price
Installation
Colour
Most porcelain slabs only have the colour/design printed on the surface level. However, this is changing with advancements in production technology. And the design can be carried through when using the mitered edge profile.
Price
Porcelain can be pricier than other countertops. That being said, the expense will also be dependent on factors like the size, colour and manufacturer.
However, as more and more manufacturers specialize in porcelain, fabrication costs may eventually be on par with other forms of stone.
Installation
It's important that when choosing a fabricator/installer you select a professional that has experience working with Porcelain.
Pros and cons of porcelain countertops ー Conclusion
Now that we've discussed the advantages and disadvantages of porcelain countertops, it's time to make a selection. Caesarstone has a variety of porcelain countertops to choose from. Homeowners and businesses can also use the Caesarstone visualizer tool to get a better idea of how certain countertops influence the look and feel of a space.

Homeowners and business owners can click the following link to learn about Caesarstone's lifetime warranty.
FAQ
Find the answers to the most commonly asked questions about porcelain countertops:
What are the porcelain countertop reviews?
Generally, reviews are positive. They are an in-demand product in Europe and are growing in popularity in North America.
How can homeowners clean porcelain countertops?
Caring for porcelain countertops is as easy as using a warm, wet cloth and mild dish soap or cleaner.
Can homeowners use Windex to clean porcelain countertops?
While using Windex is an option to clean countertops, it is not always recommended because the substance tends to reduce shine and impose dullness upon the porcelain.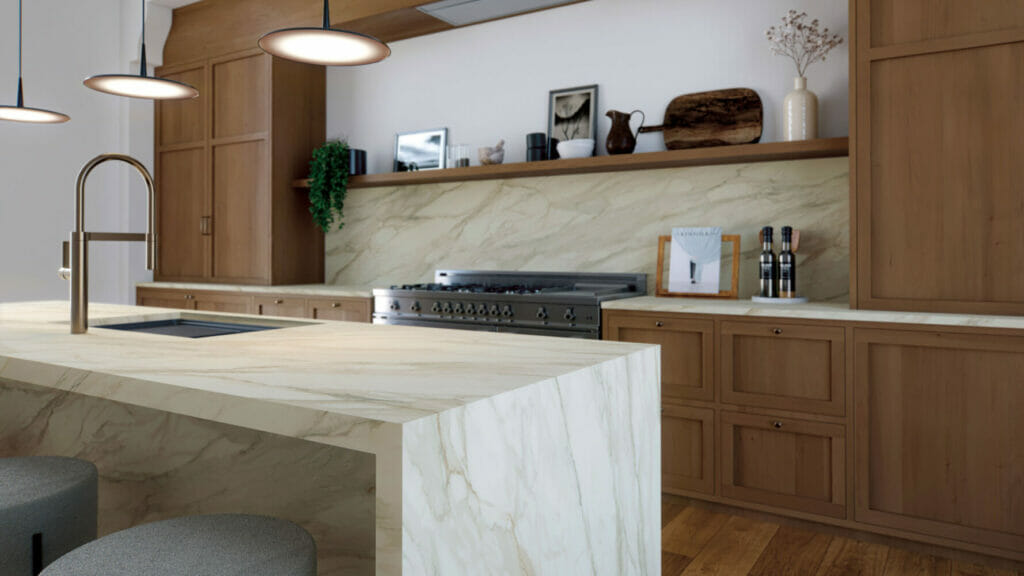 Can homeowners use vinegar to clean porcelain countertops?
Yes, using vinegar to clean a porcelain countertop is an option, especially for tougher stains.
What can't homeowners use to clean porcelain?
Avoid using extremely abrasive cleaners like ammonia or bleach. They can alter the porcelain material. It is also not advised to use oil-based detergents or cleaners containing dye.
Are porcelain or quartz countertops better?
It depends. Porcelain and quartz have different colours, styles, textures and characteristics. It is best to sample each material to know which one is best for a particular home or business.
Is quartz or porcelain more durable?
Quartz and porcelain countertops are durable. Quartz is sometimes seen as an investment—while it is more expensive, it is also generally longer-lasting.
Do porcelain countertops chip easily?
Porcelain is a very durable material and therefore does not chip very easily.
Can you put hot pans on a porcelain countertop?
Porcelain countertops can withstand heat from pots and pans that are placed directly on the countertops, but for items that emit prolonged heat, homeowners should use an insulated countertop mat.
Is porcelain better than granite?
Both materials can be great choices. Porcelain is the more durable material with a Moh's hardness rating of 7-8, compared to Moh's hardness rating of 6-6.5 for granite. However, both surfaces are generally resistant to cracks, chips, or scratches. Check out Caesarstone's granite-like offerings in retail stores by visiting the "Where to Buy" section.
Is porcelain more expensive than quartz?
It depends. Both materials can range in price on the basis of rarity, colour, design and thickness. It would be better to compare two styles rather than the general material.