Reading:
Design and Specification
We create quartz surfaces that push the boundaries of creativity and design. Our wide range of colours comes in two sizes and a variety of finishes and edge-profiles, catering to different style tastes and practical applications, from kitchen countertops to bathroom vanities, laundry rooms, and more.
Our Finishes
Caesarstone offers a variety of five finishes, dressing the surface in a way that brings out the best in the design while ensuring it remains long-lasting without the need for sealants or wax.
Natural
A slightly textured satin sheen, Natural finish conjures up the emotional caress of stone, warm, grainy, and uniquely sensorial. It gently reflects light, enhancing the depth of colour and pattern, especially on darker shades.
Polished
With its high-gloss smoothness, Polished finish emphasizes the surface features with its stunning luster. It attracts light and reflects it with elegance, illuminating the space around it with a natural brilliance that makes it seem larger and luxurious.
Honed
Smooth to the touch and soft on the eye, Honed finish offers a special organic luminosity. Its satin sheen reflects light, while retaining a special shine that penetrates the surface to highlight deeper dimensions.
Concrete
A lightly textured complexion, Concrete finish is inspired by the granular tactility of smooth concrete with a soft earthiness quality and low light reflection. Its grainy touch evokes the sensation of an organic material that is powerfully strong.
Rough
A rich and complex rugged look, a Rough finish is achieved by advanced technologies designed to create a compelling tactile effect. It offers the coarse experience of industrial materials for distinctively gravelly surfaces yet still smooth enough for practical cleaning. It highlights patinas and variations in the slab design, creating added depth and intrigue. Applications featuring multiple slabs will experience inherent visual differences.
Our Slab Sizes
Caesarstone quartz surfaces come in Standard size, offered in three thicknesses.
Standard size – 56.5" x 120" (305 cm x 144 cm)
Thickness – 1.3 cm, 2 cm, and 3 cm depending on the colour
| Thickness | Standard Slab Weight kg | Standard Slab Weight lb |
| --- | --- | --- |
| 3 cm | 290-306 kg | 639-675 lb |
| 2 cm | 189-210 kg | 417-463 lb |
| 1.3 cm | 127-143 kg | 280-315 lb |
Jumbo
Some Caesarstone quartz surfaces are available in large Jumbo size, offered in two thicknesses, making it easier than ever to fill spaces with fewer seams.
Jumbo size – 64.5" x 131.5" (334 cm x 164 cm)
Thickness – 2 cm and 3 cm
| Thickness | Jumbo Slab Weight kg | Jumbo Slab Weight lb |
| --- | --- | --- |
| 3 cm | 362-382 kg | 798-842 lb |
| 2 cm | 236-261 kg | 520-575 lb |
Standard & Jumbo Weight
| | per kg/m2 | per lb/sq ft |
| --- | --- | --- |
| 3 cm | 66-70 kg | 13-15 lb |
| 2 cm | 43-48 kg | 8-10 lb |
Available Edges
All Caesarstone slabs come with a standard engineered cut, ready for experienced stone masons to fabricate the surface to your specifications. Your surface's edge profile can be custom-designed by a stonemason in a variety of thicknesses that inspire your design.
Choosing the right edge profile for your specific design style and aesthetic adds the all-important finishing touches to your surface and optimizes your design.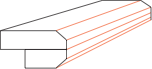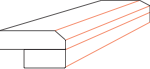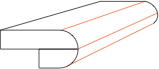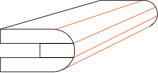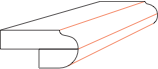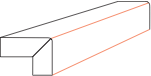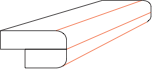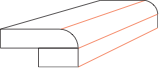 We recommend taking the following factors into consideration:
All exposed edges should be fabricated and finished to the same finish as the surface.
The top and bottom of the edges must be rounded. Do not create square edges as the larger the surface area of the edge (i.e., radius), the more resistant it is to chipping.
All edges should have a minimum radius on any edge profile of 3 mm to 4 mm. For added durability, the best option is a 6 mm radius.
Undermount sinks should have a minimum radius of 6mm on the upper edge of the Caesarstone.
Caesarstone recommends a minimum range for edge profiles of 3 mm to 4 mm with a rounded edge to reduce the risk of chipping and increase the surface edges' safety for your space.