Choosing a kitchen is no easy task. Whether you're in the midst of a complete renovation or simply updating an old style, the finer details of the process can complicate matters and it helps to be as well prepared as possible.

This is especially true when procuring your countertops: due to the man-made nature of quartz, the quality can vary between different brands and selecting one based on price could be a costly mistake further down the line. In order to get a good grasp of what's on offer, you need to speak to different fabricators and fitters to understand if they'll be the right fit for you.
Before you commit to a professional, ensure you know everything you need to make an informed decision by asking your potential supplier the following questions:
Should I speak to a fabricator or a kitchen and bathroom retailer?
A kitchen and bathroom retailer is a good starting point if you are looking at a complete renovation of your kitchen, with new cabinetry, appliances, or even structural changes such as an extension. A good kitchen and bathroom retailer will help manage the entire process for you, including the kitchen design, and dealing directly with one company would ease potential complications.
If you are simply replacing your existing countertop, or have already designed the new layout and ordered new cabinetry yourself, then it might be better to go directly to a fabricator, who will be able to assist you in templating, cutting and fitting a new quartz countertop.
What types of quartz are available?
Though you'll likely have done some research into the different types of quartz available, when you visit a fabricator you'll be able to see in person the variations of color and finishes. Ask to see all of the options on offer, as quartz is able to capture the look of many other types of stone, including granite, marble and concrete. Whilst you may have an idea in your head of which type you would prefer, it's worth taking the time to discuss all alternatives and see how they can work in a range of kitchen styles.
Can you explain the pricing structure?
There are a number of factors that can have an influence on the pricing of quartz countertops and it's worth asking your fabricator to explain the differences. For Caesarstone, we have five pricing groups across the entire range, competitively positioned within the market. The lower tiers feature our essential suite of colours suitable for a broad range of applications whilst the higher tiers denote exceptional quality and truly extraordinary finishes, developed though our exclusive production techniques.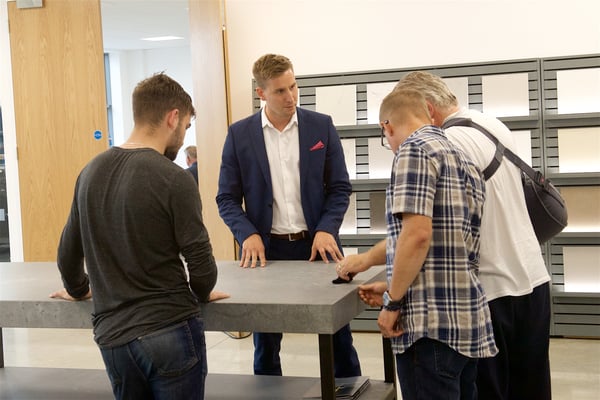 Is there a warranty provided on the products and installation?
When properly maintained and cared for, quartz worktops can last for many years. Because of this, most fitters will provide a long-term warranty on the workmanship involved. As standard, Caesarstone offer a lifetime warranty on the material for complete peace of mind. It's always best to be certain and get a clear explanation of what will be covered and for how long.
Can I have an input into the slab layout or template pairing?
Generally, fabricators will balance using the material in the most economical method with the visual impact. There are different ways to layout the countertop, even when the same amount of material will be required. Once you have selected a color and design, you may wish to find out how much input, if any, will be required on your part. Caesarstone surfaces can be fabricated into a number of beautiful details that provide both practical and aesthetic benefits. A range of different edging options are the perfect finishing touch, so be sure to enquire about the options available.
Do you also carry out the installation?
There are two very different skill sets required for the fabrication and the installation, however, the fewer people involved in the process, the better. Having the same person with you throughout minimises the margin for error and helps result in a higher quality outcome. So it's worth understanding the buying process fully, from selection, fabrication and to fitting.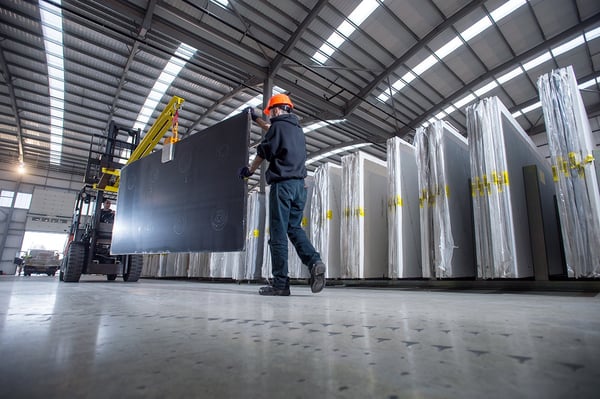 By preparing some key questions to ask when selecting a fitter, you'll be able to keep your visit much more productive and efficient. Home improvements are arguably one of the biggest investments and by arming yourself with the right knowledge you can make the very best decision that's right for your kitchen.
Ready to find a fitter? Take a look at our accredited list of fabricators, retailers and showrooms near you.